PLEASE PLACE ALL ORDERS AT THE BAR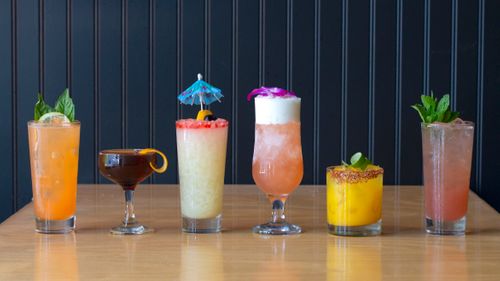 $5 Old Fashioned
$5 Strawberry Daiquiri
$5 Jim Beam Orange Collins
$7 Beer & A Shot
30% Off Food Menu Items
LOW KEY JAMBOREE - $11
jim beam black, alpine liqueur, cynar, lemon, blackberry puree, with mint.
WEATHERVANE - $10
grey goose, pama pomegranate liqueur, cranberry, lemon, orange bitters, brut sparkling wine, with rosemary.
MIDWEST BUNGALOW - $11
pecan brown butter same old moses rye, demerara, spiced cherry bitters, angostura bitters, with pecan. great made hot or cold!
CHAI HARD - $12
chai tea infused garden club gin, lillet, cointreau, lemon, & vanilla. make it a hot toddy!
M.F. DOOM - $12
maggie's farm dark rum, maggie's farm spiced rum, maggie's farm falernum, rothman and winter apricot, lime, pineapple, orgeat, & nutmeg.
RIBSTON PIPPIIN - $12
ilegal joven mezcal, yellow chartreuse, apple, lime, & cinnamon.
COCKTAILS:
MAREN: CORPSE REVIVER #2 - $12
garden club gin, cointreau, lillet blanc, lemon, absinthe.
HALEIGH: OAXACAN PALOMA - $11
banez mezcal, grapefruit, club soda, lime.
JOSH: MEZCAL LAST WORD - $12
benez mezcal, green chartreuse, luxardo maraschino, lime.
LEE: CAIPIRINHA - $11
cachcaca rum, lime, sugar.
SKYLER: WOO WOO OR BLUE WOO - $9
prairie wolf vodka, peach, lime, cranberry, blue.
TJ: APEROL SPRITZ - $8
aperol, soda, prosecco.
BEERS & SHOTS:
MARISSA: MODELO & CYNAR - $12
JOSH: CLASSIQUE & FERNET - $9
ERIN: HIGH NOON & TEQUILA - $10
TJ: HIGHLIFE & JAMESON - $9
PARKER: PBR & BRANCA MENTA - $9
LIQUOR & SALES TAX INCLUDED ON ALL ITEMS.
ALL WALKED TABS ACCRUE 20% GRATUITY.