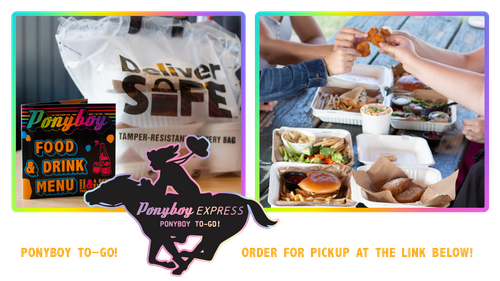 KITCHEN HOURS: 4pm-10pm sun-thurs & 4pm-12am fri-sat
GOLDEN HOUR:
4PM-7PM DAILY
$5 COCKTAILS & 30% OFF FOOD
DINE-IN ONLY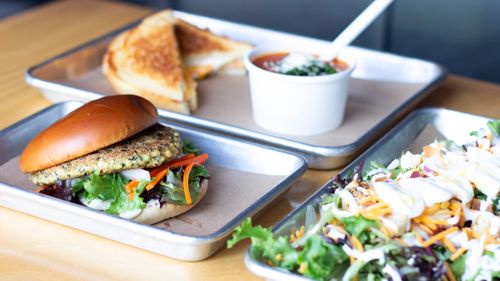 SNACKS
Hummus Plate

$7 Half Order // $11 Full Order

Garlic hummus, served with assorted veggies & pita bread.

Vegan Fried Tofu

$7 Half Order // $11 Full Order

Crispy fried tofu with a sweet chili sauce.

Fried Pickle Chips

$7 Half Order // $11 Full Order

Insanely crunchy fried pickles served with ranch & poblano remoulade.

Mac & Cheese Balls - $8

House-made mac & cheese, mozzarella, parmesan, provolone, roasted garlic, green onions, panko crusted & deep fried. Served with ranch.

Chips, Queso, & Salsa - $8

Fresh fried corn chips, white queso, & house-made roasted salsa.

Hot Wings 6 for $11

Pickle brined bone-in chicken wings with carrots & celery served with a side of ranch dressing.

Queso Fries

$8 Half Order // $14 Full Order

Loaded with bacon, chives, and house queso.

Add chicken, extra bacon, or pulled pork - $4

Pretzel Bites

$8 Half Order // $14 Full Order

A boatload of warm and buttery pretzel bites tossed in kosher salt with house queso & honey mustard.

MOVIE CONCESSIONS

// Available Anytime //

Movie Popcorn - $8

Freshly popped and topped with REAL butter.

Candy - $5

Soda - $4
MAINS
SANDWICHES:

Pick A Side: Fries Or Fried Brussels

Upgrade Side: Fried Pickles - $2 | Soup - $3

Poblano Pepper Sandwich - $11

Spiced bacon, pickled poblano peppers, grilled onions, green onions, roasted garlic cream cheese spread, swiss & provolone cheese, all on sourdough bread.

Pulled Pork Sliders - $9

Slow-cooked pork with a whiskey glaze, topped with pickles & house-made apple-pear slaw. two sliders.

Chicken Katsu Sandwich - $11

Panko breaded chicken breast fried to perfection, katsu glaze, served with house pickles & 1000 island dressing.

Marinated Cauliflower Sandwich - $11

Hearty, crispy fried cauliflower, green onions, apple-pear slaw, & 1000 island dressing.

Classic Burger - $11

Fresh grilled burger, melted cheddar & havarti cheese, mustard, pickles, lettuce, tomato, served on brioche buns.

Add bacon - $3

Bruiser Burger - $13

Blackberry candied bacon, spicy blueberry ketchup, swiss cheese & provolone cheese, dijon mustard, served on brioche buns.

Beer Brat - $9

Beer brat with grilled onions & spicy mustard.

Grilled Cheese - $8

Cheddar, havarti, cream cheese, on sourdough bread.

Add a side of tomato soup - $3
BURRITO:
Beer City Burrito - $8
Chicken or veggie. Served with salsa.
BOWLS:

Spicy Mac & Cheese - $10

Elbow macaroni in a house-made queso with a kick, parmesan cheese, cream, topped with panko bread crumbs. tone down the spice and ad for "city mac" instead. Add bacon - $3

Vegan Gochujang Cauliflower - $11

Vegan battered cauliflower fried till golden brown, tossed in a house-made gochujang sauce, sesame seeds, green onion, served on rice.
SALAD, SOUP, AND SIDES
SALAD:

Add Chicken Breast - $4

Half Order // Full Order

Vegetarian Caesar Salad $7 // $12

Crispy chopped romaine, parmesan cheese, cherry tomatoes, sourdough crouton, with house-made caesar dressing.

Vegan Falafel Salad $7 // $12

Fresh spring mix blend, crispy falafel, picked onions, fried garbanzo beans, & blistered mint tomatoes, with lemon-mint vinaigrette.

Ponyboy House Salad $7 // $12

Crisp romaine, ranch, cheddar, tomato, red onion, cucumber, boiled egg, bacon, & croutons.

SOUPS:

Cup // Bowl

Chicken Noodle Soup $5 // $9

House-made chicken broth, carrots, celery, egg noodles, a classic. Served with a piece of baguette.

Roasted Poblano Soup $5 // $9

Roasted poblano peppers, house-made veggie broth, parmesan cheese, cream, served with a piece of baguette.

Tomato Soup $5 // $9
Tomato, garlic, Italian seasoning, pinch of parmesan, basil for garnish.
SIDES:

Small // Large

Fries $4 // $8

Crispy golden fries lightly salted served with spicy blueberry ketchup, queso, ranch, or honey mustard.

Fried Brussels $4 // $8

Sliced and fried brussles, flash-fried with a honey glaze, seasoned with salt & pepper.
SWEETS
Fried Pies - $5
Apple or Cherry!
SALES AND LIQUOR TAX INCLUDED IN PRICING
20% GRATUITY WILL BE ADDED TO ALL WALKED TABS